Cannabis Grade Hydrocarbons - Butane, Propane, and Blends
Evolved raises the bar by implementing a rigorous 3-step cleaning process on every cylinder every time. Once complete, they are filled with >99.5% pure butane or propane, accompanied by COAs
Evolved Extraction is Canada's premier supplier of high-purity instrument-grade hydrocarbons fuelling the Canadian cannabis industry. With locations in BC & Ontario, we have Canadian cannabis processors covered from coast to coast, addressing their timely supply chain needs.
Evolved's supply of high purity cannabis grade butane, propane & blends, allows extraction artisans to produce a vast array of top-tier concentrates, including hash, shatter, crumble, badder, & many more, from a single extraction process, with little to no further refinement required.
Evolved offers competitive pricing and unmatched quality & value to our industry partners by offering high purity hydrocarbons with COAs, including:
Instrument-grade butane
Instrument-grade propane
Instrument-grade 70/30 blends
Instrument-grade custom blends
Our popular Supply Agreement Program is available for high-volume clients to ensure the best possible price with on-demand delivery. Learn why some of the top processors in Canada have partnered with Evolved to fuel their growth!
Learn more about our hydrocarbons, process, and clients below:
Enrolled in Evolved's Supply Agreement Program
KEEPING YOU OPERATIONAL – Preferred pricing on consumables & high purity solvents to fuel business growth.
"Our partnership with Evolved has played a huge role in the growing success of our company. Their solvent blends have been crucial in allowing us to make premium, high-end cannabis concentrates. Evolved consistently meets order deadlines and has kept up with the fast-paced nature of our growing company. We're very excited to see them open up a plant much closer to home and we look forward to working with them for a very long time." – Luke Allen, Thrive Cannabis
Based in Hamilton, ON 

Vertically integrated

Ontario's first cannabis "Farm Gate" store

Cultivator/processor of premium craft cannabis/concentrates
Enrolled in Evolved's Supply Agreement Program
KEEPING YOU OPERATIONAL – Preferred pricing on consumables & high purity solvents to fuel business growth.
"We were looking for an affordable solvent supplier and Evolved Extraction more than delivered. They went out of their way to equip themselves with a fully stocked storage location that could allow for next-day delivery to our facility. They also understood that in a government-regulated industry, the documentation, traceability, and quality of the solvent is paramount. Thank you Evolved for always going above and beyond." – Arash Amin Senior Manager, Extraction Operations (MSc. & BEng.)
Based in Markham, ON 

Global cannabinoid processor and manufacturer

Phase 1 of their facility is built to EU GMP standards

Current expansion plans into our next two phases
MAXIMIZING EFFICIENCIES IN CANNABIS EXTRACTION WORKFLOW - By Adam Temple, Evolved ECO
ETHANOL VS CO2 CANNABIS EXTRACTION – ANALYZING CAPITAL COSTS RELATIVE TO THROUGHPUT
Looking for a modular Hydrocarbon Extraction System that scales to your current needs and future goals? Our new Genome Plaform is now available.
Scalable Throughput. High-Value Products. Big R.O.I.
The Genome Platform processes fresh frozen or dried biomass at scale. Then separates the terpenes from cannabinoids and formulates them with precision. Performing these processes in-line saves you CapEx costs, while producing multiple potential value streams that are in high demand.
A true game-changer.
The Genome Platform was designed with unlimited potential for iteration and innovation in mind. A simple architecture helps teams easily and affordably get extraction capacity online. A growing selection of add-on modules facilitates unrestricted growth, specialization, and innovation.
The Genome: Modular Hydrocarbon Extraction System – Now Available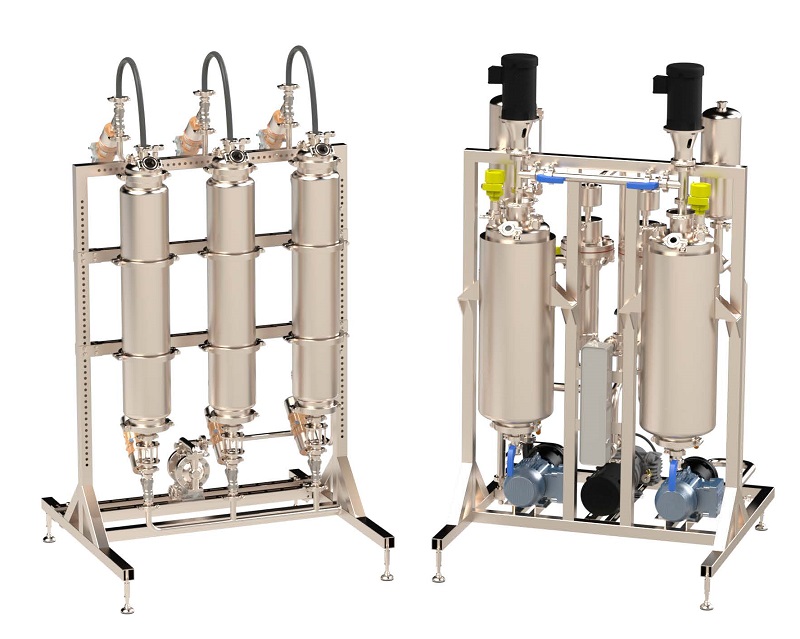 PNEUMATIC – Saves time, less chance for errors
seamlessly switch between set processes with a literal flick of a switch.
MODULAR – Modify or scale, easily and cost-effectively
Your extraction system needs to be futureproof if you want your extract brand to be futureproof.
CERTIFIED – Compliance per upgrade, not per system
The Genome you can scale up or expand your hydrocarbon system with certified modules.
CANADIAN – Built locally, trusted internationally
 With our showrooms in B.C. and Ontario, we're on-deck to minimize your downtime and keep you up and running with parts and service.