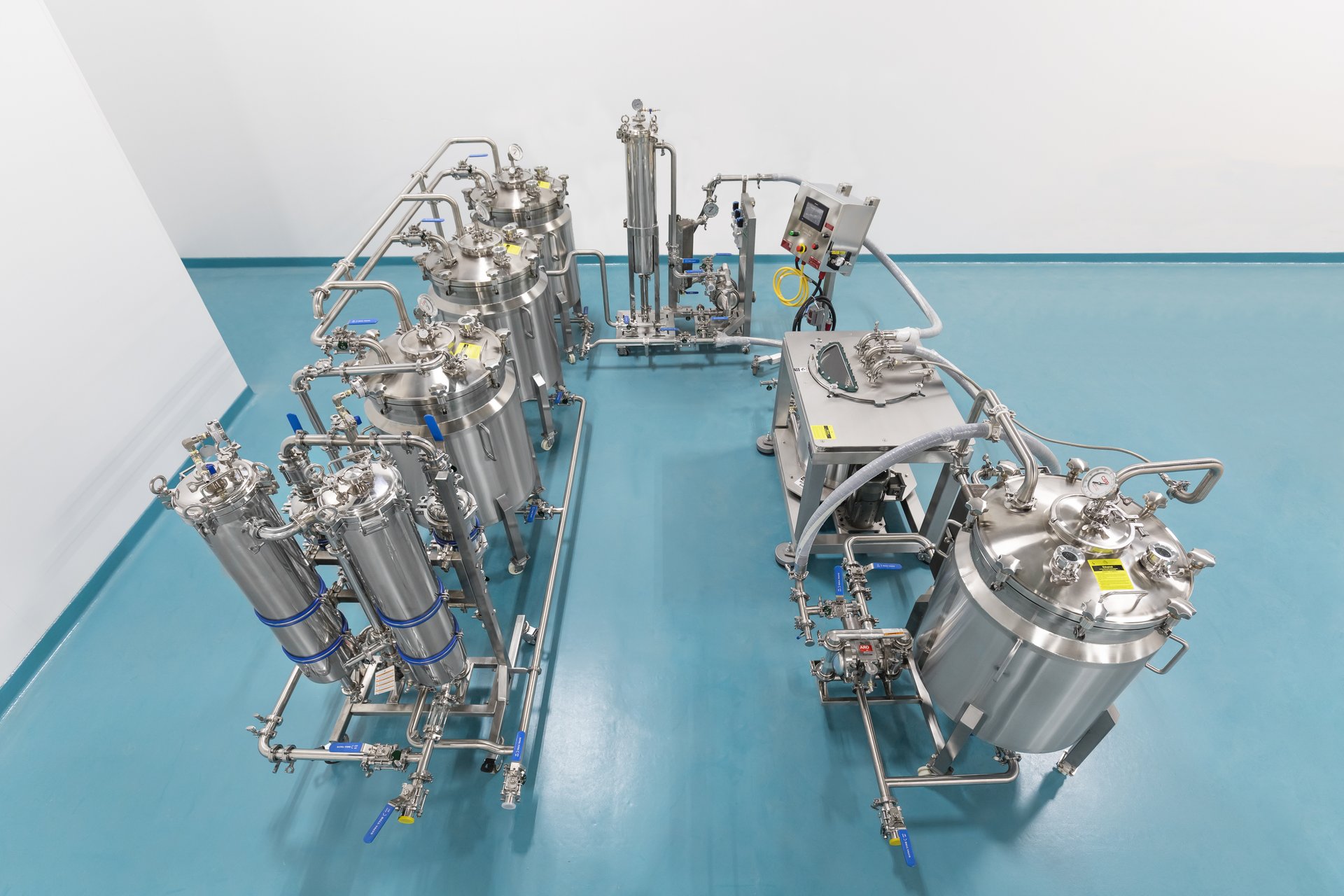 Solvent Management
Supply on-demand temperature-controlled solvent to the extraction process with precision.

• Rated for +170°F to-40°F
• 40 gal storage capacity
• Single or dual tanks
Separation
• Compact & easy to configure
• One-person operation
• Up to 90 lb hourly capacity
• Batch processing pre-sets
• GMP compliant
SINGLE FILTRATION W/ RE-CHILLING
Primary filtration step (10 microns) and optional re-chilling of micella to perform multi-washes to increase efficiency without compromising performance.
• Re-chilling capabilities to perform multiple washes at consistent -40C temperatures
• Easy to clean design
• GMP complaint
Staging Tanks
Provides additional volume to allow for a continuous input of 30lbs biomass every 20-30 mins to the centrifuge.
• Additional volume capacity to perform the final filtration and remediation step
• GMP compliant
Filtration & Remediation
High-flow filtration and colour remediation for removal of waxes, lipids, chlorophyll and pigments.
• Dual remediation columns
• Three-stage filtration
• GMP compliant
DOWNSTREAM SOLVENT RECOVERY & POST-PROCESSING
Evolved offers a variety of solvent recovery, distillation and other post-processing equipment
• Expertly paired with you upstream process
• All from one trusted source
• Optimized end-to-end process design
Industrial Chilling
High-efficiency chilling for maximum energy savings and optimal cooling capacity.
• Touch screen control panels
• Monitoring & automation
• Various configurations
• On-demand chilling, capable of chilling 30 gallons of ethanol in under 30 minutes.
The EV-MASS Professional allows for the extraction of 600+lbs of biomass per shift with no more than 2 operators. It is GMP compliant, cCSAus certified for C1D2 Group D hazardous locations and has an industry-leading 24-month warranty.
Learn why the EV-MASS Ethanol Extraction Platform is the longest-lasting solution in the market with guaranteed performance results.